Make yourself happy
The leather parts for unique paintings of our artists are made of the highest quality beef leather, that is treated with natural groin. The bodies of all handbags of the BAMBAS studio are made of selective face leathers of Italian provenance, as well as original fittings and lining materials – those are Bambas Art Bags – a love that lasts for a lifetime.
Type 370 Back
The Portrait with ox-eye Daisy´s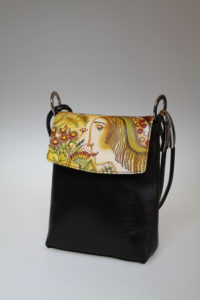 Description

A handbag of smaller dimensions with a flap decorated with a painting, the flap secured by a magnet, inside two spaces divided by a compartment which is determined to be closed by a magnet, decorative fittings in the shape of circles, an interestingly resolved adjustable strap determined to be worn over the shoulder (may also be worn crossed).
Dimensions
Width: 18 cm Height: 23 cm Depth: 6 cm