Make yourself happy
The softest kidskin linings, the best orthopedic and hygienic insoles sucking sweat away, perfect under leathers for insoles, all of this magnified by original design and patent protection, those are Bambas Art Shoes. With Bambas shoes, you are always one step ahead.
Bambas Art Shoes Back
The Red Fish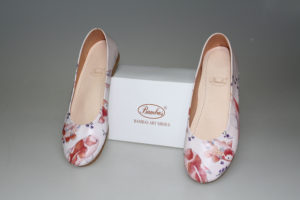 Description

Bambas Art Shoes – with this connection of three words, the Bambas studio expands the portfolio of its products by one of the most demanding categories in the field of women's fashion – shoes. In this introductory presentation, we introduce to you the ballerinas, that will first of all attract with its original artistic value. The principle of originality of these ballerinas lies in the fact that each shoe of the pair comes out of the identical artistic motive; yet they are both different from each other. Briefly said – five pairs of shoes mean ten various originals. This is the way. Choose your own original way with the Bambas shoes among thousands of other shoes. You are always one step ahead with these.
Sizes: Shoe sizes: 36 - 42